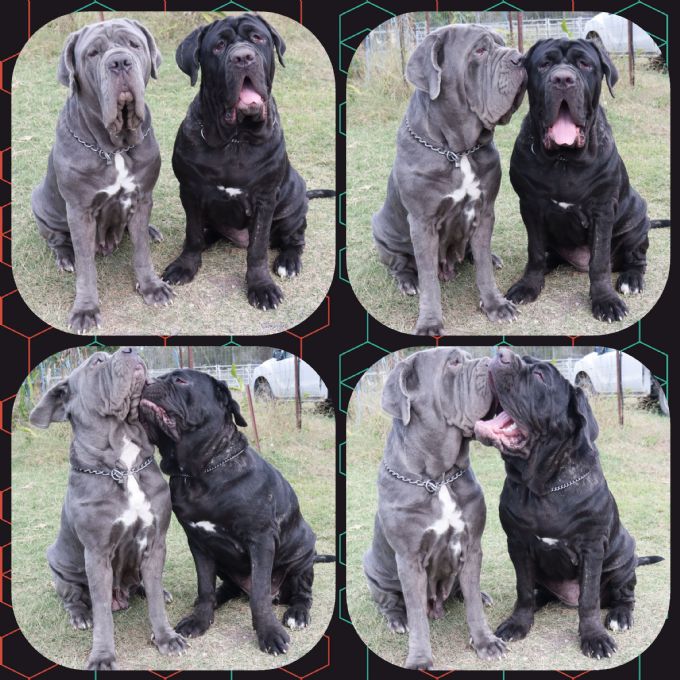 Welcome to my web page.
My dogs are a very real part of my family. They all have their own personality and quirky ways.
The Neapolitan Mastiff is a beautiful but headstrong breed and not suited for many people. They are a velcro breed and need your fall attention without being spoilt. They are a large breed with high maintenance in their early years so as they grow into a healthy well adjusted dog that can live happily in suburban life. They need the best nutrition the best housing the best vets and the best of trainers that can train you to train your Neo. They need a huge amount of socialisation with other people and dogs and other other animals from the very start and continued into their adult years. The pups are large breed so they must be treated well with the knowledge of feeding and exercise or damage will be done that will not be able to be undone and most times the owners will then blame the breeder as most do not believe that the wrong food and exercise is detrimental to the health and growth of pup. These dogs cost a LOT of money to feed a LOT of money in vet bills if something goes wrong and they need a LOT of your time. If you do not have the money or the time please do NOT get this large breed as it is not fair on the pup/dog and deceitful to the breeder. If you do get a pup from a breeder please LISTEN to food, supplements,bedding and exercise advice for the pup that you have bought from them as failure to do so can and will have disasterous results that YOU YOURSELF caused the pup.
Anyone who has young children and are not experienced 'dog people' I always advise not to get this breed. This is because a NM pup needs your full attention and training which takes up a huge amount of your time and a big commitment from everyone in the family. Dont get me wrong these dogs love all family members but have to be watched always with young children as they will easily knock them over accidently which can have physical and mental scarring on a young and small child. With children the pup and child/ren always need their own space when they dont want to be with each other or cant be supervised together at certain times. Crate training is a must. I do believe that a pup up to the age of around 5 - 6 months old does need to be an inside/outside dog after 5 -6 months its up to you your family and that specific pups needs and wants but it still needs your attention not put oustside and treated like it is not part of your family.
My dogs are excellent guard dogs at home and at our work premises but when out and about at either shows or just a walk they are very social and behave themselves well.
I have videos on you tube of my dogs at home - https://www.youtube.com/watch?v=mZffraZsZZ8
https://www.youtube.com/watch?v=SNe5ngN6dxc - https://www.youtube.com/watch?v=rwvZkJAUDO0
My Instagram Account is - https://www.instagram.com/nmaust
IT HAS COME TO MY ATTENTION THAT SOMEONE IS USING MY PREFIX ON FRAUDULENT PEDIGREE PAPERS
IF YOU DO NOT BUY A PUP/DOG FROM ME PERSONALLY THEN I DOUBT THAT IT IS ONE OF MINE
IF YOU ARE IN CONTACT WITH SOMEONE WHO IS SELLING A NEAPOLITAN MASTIFF WITH MY
PREFIX PLEASE CONTACT ME FIRST
Contact Details
Jody Reeves
Brisbane, QLD, Australia
Phone : 0413127200
Email :
[email protected]
133808 Visitors